Played my first paid gig in 1966 – £5 – was a good venue, Paul Simon had played it in 65 but he was paid 12 guineas.
It all started for me when I heard a Howling Wolf EP and then in 1966 I saw Rev Gary Davis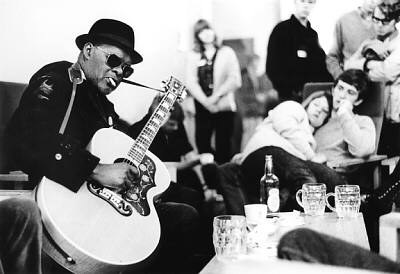 That's me sitting in the chair. I spent 48 hours with him – (he slept briefly for a couple of hours on Saturday night) he smoked 200 of my cigarettes!
Big Bill Broonzy was my first idol (as I could play a lot of his numbers). Repertoire is varied nowadays, but I still perform Willie Mae and 5' 7" on a regular basis after 50 + years of professional performance.
There are various recordings Blues from the Aire Delta in 1982, North Country Blues in 1997, Blues Around Midnight in 2017, Last Chance Blues in 2019 and Seam of the Blues in 2020.
I've been playing and singing the blues for over 50 years and with more and more feeling that I have a good reason to do so as I age and life presents its various scenarios.  The fingers may have slowed …. but the voice still works.   At my age it's always good to be able to sing "Woke Up This Morning" .  As I've got older I've found the applause lasts a bit longer and is louder. Have played clubs, pubs, bars, concerts, festivals – wherever there is a good atmosphere and someone in the audience appreciates the performance. Was proud be inducted (at last) in 2017